1929 Stinson SM-6000-B Trimotor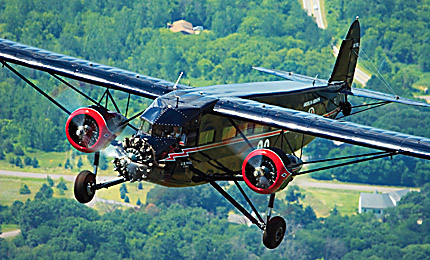 This wonderful Stinson airliner was built in early 1931 at the Stinson Aircraft factory in Wayne, Michigan. NC-11153 saw service for four airlines: Century Airlines, American Airways, Chicago and Southern Airlines, and Chesapeake Airways. It is American Airlines' oldest surviving airliner and the livery, or paint scheme, you see it in now is exactly as it appeared when it was in service with American in 1932.
As the Depression set in, the Stinson's new tri-motor was as competitive as one could be. The airplane was initially priced at $25,900.00 in 1931, and then lowered to $19,500.00 in 1932. Company literature from 1931 compared it to comparable planes selling for $65,000.00. The operating costs were indeed lower, which contributed to the survival of number of airlines during the Depression.
In March 2006, this airliner became 75 years old. In that time she has flown nearly 1,500,000 miles and carried over 100,000 passengers. In addition to the people, NC-11153 has carried horses, the mail, all kinds of freight and parcels, and has even been a crop sprayer and bush plane. Today, the NC-11153 has been restored to new condition and is looking forward to flying another 75 years!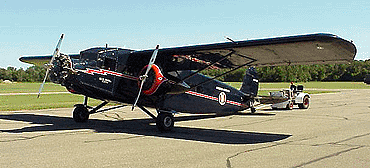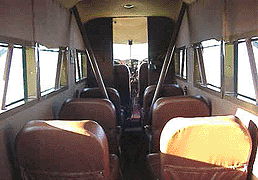 For restoration photos, please go to HO Aircraft Web Site
Click HERE for "Air Mail Days" at Antique Field
Click HERE for video of Stinson landing
NATIONAL AIRLINES SYSTEM
FLIGHT 1 * 1937
"Good morning! Welcome aboard Flight One to Miami, with intermediate stops in Tampa, Sarasota, and Ft. Meyers. Today's flight is very special, as you are flying National's newest airplane, the Stinson Trimotor, along with the personalized service of a stewardess. I am Charlotte Georgie, and after take off it will be my pleasure to serve you gum, magazines, and cigarettes. I will be coming through the cabin to meet all of you personally, pointing out areas of interest as our flight progresses. We will be flying today at the speed of 125 miles an hour.
This "Giant of an Airplane," as the St. Petersburg Times calls it, holds eight passengers and a crew of three. On board we are equipped with two-way radio communications with ground stations at Jacksonville and St. Petersburg. You may notice that the pilot has to adjust the stabilizer every time I walk up and down the aisle, I assure you that is perfectly normal. Our flight is about to depart from Albert Whited Airport in St. Petersburg, so please take your seat and fasten your seat belt."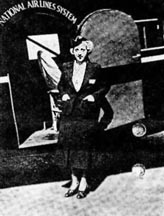 That is all we know of her very first flight. We don't know what Charlotte (Georgie) Robbins actually said on this historic flight, but we do know that it was not routine! In the two published interviews we found about her, from 1972, she gave the amazing details of that flight. She arrived in Miami, spending the day at the 36th Street Airport, waiting for her flight back to St. Petersburg. During the return flight, she was called up to the cockpit and informed they were going to make an emergency landing because of an engine problem. She didn't know enough about flying to be scared, she recalled, so she just went back and sat in her little jump seat and waited. They landed in a farmer's muddy field with little damage to the airplane. Thankfully there were no injuries to the passengers or crew.
Charlotte was upset, as the new uniform that she and her mother designed and made, a white silk gabardine, became muddy when she waded out of the swamp. The passengers were sent on to Tampa by bus while the crew waited for a mechanic from St. Petersburg to fix the Stinson Trimotor. The crew hired a tractor from the farmer and towed the airplane out of the mud.
Charlotte Georgie was personally hired by George T. Baker. He founded the airline in 1934 as a mail carrier between St. Petersburg and Daytona Beach, Florida. When Mr. Baker met young Charlotte at a Yacht Club in St. Petersburg in early 1937, he offered her the job as his first stewardess. Her pay was $75.00 a month, with a free room at the one layover she had in Daytona Beach. Charlotte's "One Glorious Year" with National ended the day Mr. Baker purchased a Lockheed Lodestar. He explained to Charlotte that the airline could no longer afford the frills of a stewardess, as he had to pay for this brand new airplane. It would be 1940 before National would once again hire stewardesses.
According to the 1972 interviews, Charlotte (Georgie) Robbins moved to San Diego in 1962 to be near her son. While we have exhausted all efforts to locate more information regarding Charlotte, we hope, through this website, a friend or family member will contact us with more information.
This website would not be complete without including Charlotte, our pioneer stewardess, in our history. She was called "The Little Sweetheart of the Skies by an aviation official in 1937. We salute her professionalism as a National stewardess.
Click HERE for a detailed info PDF file on this aircraft